St. Giles' - A Medieval Hospital
Video of St.Giles' - A Medieval Hospital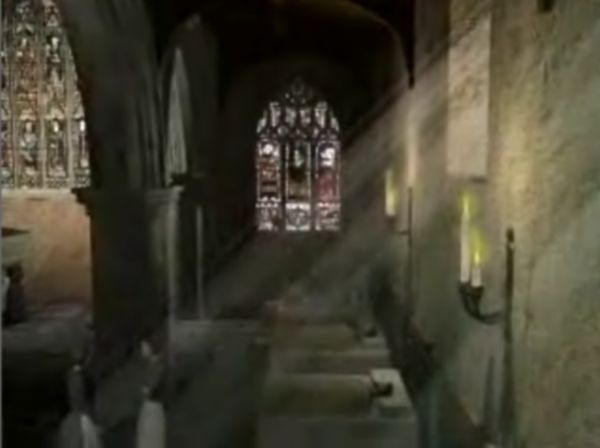 To watch the video, click on the image above.
-
[Download the WMV version of this video (33.8mb)]
This video shows how St Giles' would have appeared in the Middle Ages. However, it also allows you to pause in your journey and discover more about the medieval infirmary, Lady Chapel, chantry chapel roof bosses, high altar and chancel roof.
[top]
With four bays, a great west window and north and south isles 20m in length, the infirmary could have easily accommodated about sixteen beds; each bed was equipped with all the necessary linen.
The stained glass windows, depicting important religious figures and the heraldry of the patrons, also offered a multitude of benefits.
[top]
James Goldwell, Bishop of Norwich (1472-1499), almost certainly paid for this magnificent chantry chapel, where mass was to be celebrated every day for his immortal soul. It was decorated with two rings of bosses, sixteen on the outside, and eight on the inside. In the centre was a larger boss, depicting the coronation of the Virgin.
[top]
The Mass lay at the heart of hospital life, and took place at the high altar, in full view of patients lying in their beds. The Mass comforted the sick with a nourishing elixir of health, and sped the souls of anxious patrons through the torments of Purgatory.
[top]
The medieval chancel was equipped a wonderful chestnut ceiling, lavishly decorated with at least 252 panels, each depicting a black eagle with outspread wings, arched claws, a red beak and a long tongue.
The eagles were almost certainly painted in honour of Anne of Bohemia, who visited Norwich in 1383 with her husband, King Richard II. Indeed, chapels would often be profusely decorated, with stained glass windows, elaborate ceilings, carved bosses and paintings, alls of which provided constant reminders of the generous patron.
[top]
The Lady Chapel, which by 1331 is described as standing to the north of the church, on the side traditionally occupied by female parishioners, may have been maintained with funds donated by the women of Holme Street. There were many other devotees in the city. Some twenty-five years later, Robert de Bungay left a valuable message to the hospital on the understanding that money from the rent would support a weekly mass of the Blessed Virgin Mary to be celebrated there for his soul.
Indeed, many people also left money to hospitals to maintain chantry priests, or, if they were less affluent, to pay for a few masses. At St Giles', most bequests were worth between 3s. 4d. and £1, although some donors, such as Bishop Goldwell, established whole chapels. In fact, one of the ways that the hospital could increase its wealth was by attracting the type of patron who was rich enough to make such a substantial endowment.
[top]